MiBaseNZ's My Wishlist page has been created so families can spend time together going through the library's full range of toys and adding favourite toys to the list. Once members have finished making their selections, they can choose which toys they would like to loan for the next library session or to reserve in the future.
The My Wishlist page is automatic and is found in the top menu of the Member Website. Members will need to log in to their accounts to use it.

Adding to the Wishlist
To add to the wishlist, members must:
Log in to the member website
Click Toys in the top menu, scroll through the range till they find a toy they like and click View Toy
Click the Add to my Wishlist button under the toy image
When they have finished making their selections, go to the My Wishlist page
Viewing the Wishlist
You will be able to see the status of each toy added to the wishlist.
In Library
On Loan: the date displayed is when the toy is due back
No reservation: there are no bookings for this toy
Next reservation: the date displayed is when the toy is next reserved.
To make a reservation for a toy simply click the brown Reserve button alongside it. It will take you directly to the reservation page where you can select the dates from the calendar and Add a Reservation.
Note: the Reserve button will only appear if you have activated the reservation system for your library.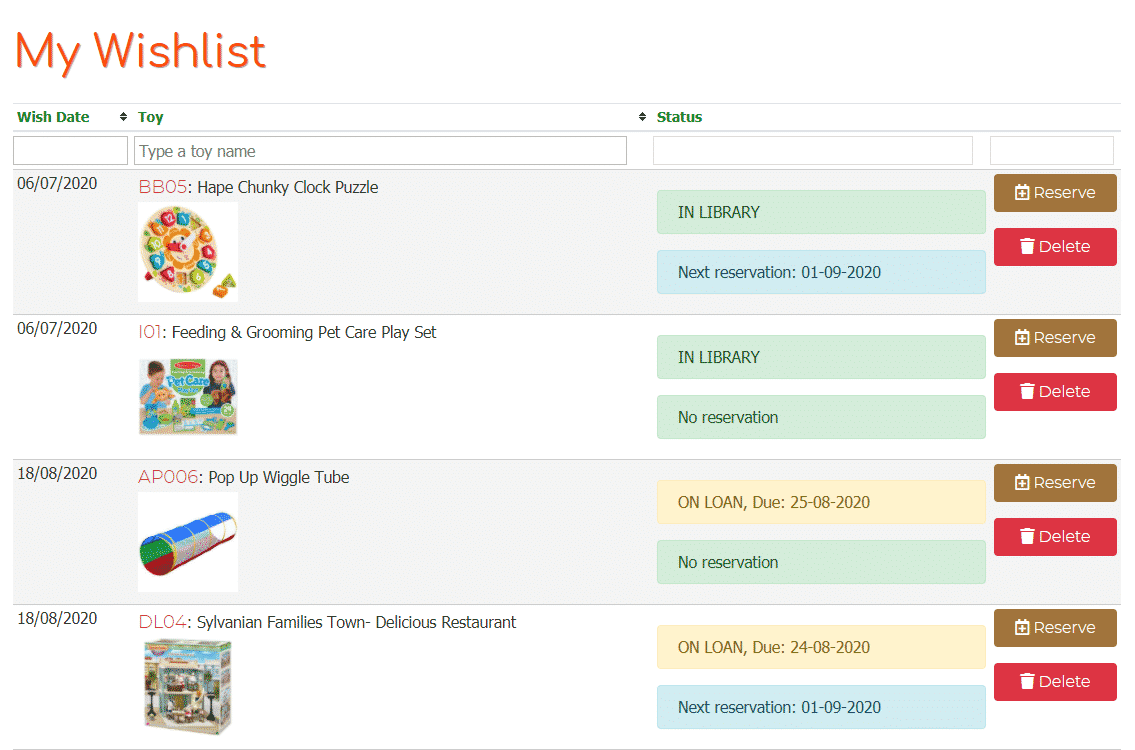 Deleting toys from the wishlist
There are two ways to delete from the wishlist.
Simply click the Delete button next to the toy in the My Wishlist page

Click the Delete from my Wishlist button, which appears after adding a toy, in the View Toy page.
A Success message will appear when done.