Once the module is activated and setup, a Company button will appear in the Member Menu Page at the bottom of the page.
This module will allow toy libraries to add a company such as childcare, a recreation centre or a school to their list of members. This module will have its own page and Company List separate from your toy library's Member List.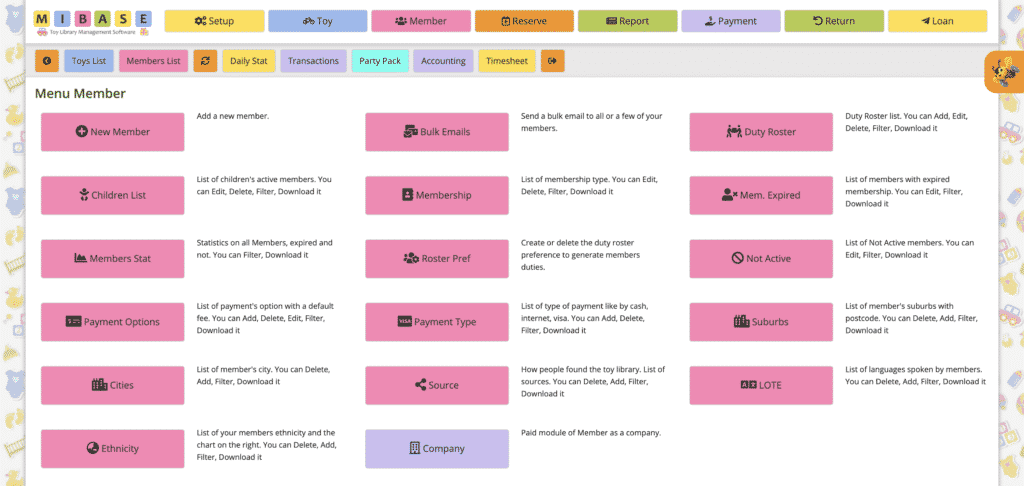 Toy libraries with Gold or Platinum Hosting will receive this for FREE. Silver hosting will be required to pay the one-off cost of the module.
The module is available and on promotion until 18 April 2021.
Cost: $70  Promotion cost: $49
Company List separate to the Member List
The company list is similar to the members list but with some minor differences.
Like the members list you can  Edit or  View your companies details. There are filters to be used if you have a long list 
At the top right of the page, you can Add a new Company.
It is also possible to download/print the list in PDF or Excel. The Documentation button is there to help you to use the page.
The page with the form for the Add New or Edit an existing company allows plenty of information to be added for the company's details and their two referents.
The two referents is the big difference from a normal member. Your member is the company only but who can hire and return toys are the two referents.
Member Website - Different Home Page
The home page in the Member website is slightly different to a members.
It will have the company's full details and some of the two referents details.
Version 1.0 of the module will not have the ability to edit the information of the company, however, it will be available soon in version 2.0!