MiBaseNZ updated to 2.16.5 - 26/07/2020
Ticket #389: Not Active toys can be loaned out
Ticket #398: Reservation setting #13 potentially not working
Ticket #395: focus on scan toy in loan page
Ticket: After a toy has been inserted, the button on the right "Back to Toy Detail" does not take the toy ID
Ticket: LOAN print receipt when the balance 0 didn't show up the 0
#371: Toy List Purchased with cost
Requested by Dannevirke Community Toy Library by our Ticketing System.
Good morning. Our Treasurer has asked for a report showing all the toys and their values, including the total value for all toys at the bottom – Toy List showing value of each toy. With total value of all toys in Toy Library with total value at the bottom/end The report called Toy List Purchased with cost by date range is good, but we have older toys so it doesn't include all of them. A similar report covering all our toys with a total value at the end would be brilliant.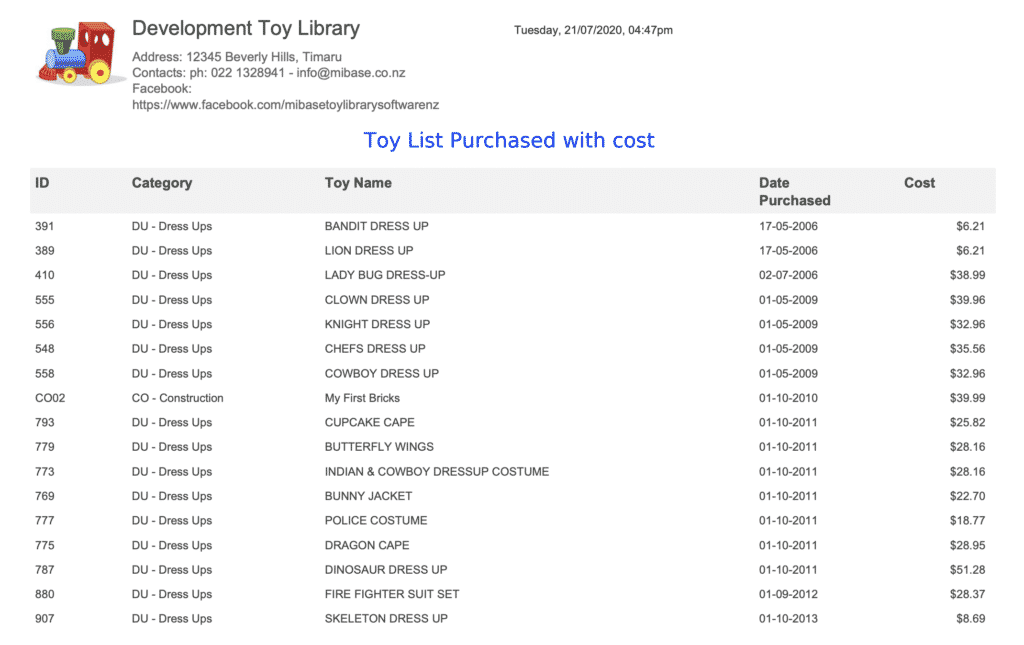 You can choose the paper orientation, Landscape or Portrait. You will have the total at the end of all pages.
#356: Member due by date range
Requested by Taupo Toy Library by our Ticketing System.
Hiya – just wondering if there could be a report added – "members due by date range" would be great to put in the weeks date range and have a list of all members due in on each day…..and if it had a list of toys they have due that day too it would be even better. Hope that makes sense….flick me an email if not. Thanks in advance.


You can choose the date range
Automatic emails requested by Toy Library
#400: EMail request- due to duty
Requested by Ellerslie Toy Library.
We love the membership about the expire with duties to do still, would it be possible somehow to setup multiple reminders, so we have 90 days, 60 days 30 etc?
Could it also include the date their membership expires?

Go to Setup -> Automatic email and search for "due_to_duty".
Small functionalities requested by Toy Library
#410: Suggesting when loading new toy
Requested by Papamoa Toy Library.
Hi, just a small suggestion which would benefit all libraries. When we use the' add new toy' button and we have been given a new toy number. It takes awhile for us to process this toy, sometimes we get distracted and need to come back to it the next day. When you have saved the new toy number it automatically comes up as the status being active and we manually need to change this toy status to processing. Unless we do this change of status it already comes up on our website as live. Are we able to have the automatic status as processing and when we are finished adding the toy details, photo etc, then change the status to active? Thoughts? Sometimes through distractions etc it is easily forgotten to manually change this.

Go to Toy -> Add New Toy
#372: Extra info boxes – Member Page in Admin
Requested by Papanui Toy Library.
When I am putting a new members details in there is only one box for drivers license and community services card (if they have one).
There is a space on the same line for another box so is it possible to have one box for ID and make a new box for the community services card?? We take all our members drivers licenses for ID and it would be easier to have separate boxes if they have both cards. Thanks 

Go to Member -> Add New Member or Member list -> Edit a member details
#373: Another Info box – Member Page in Admin
Requested by Papanui Toy Library.
Hi, would it be possible to have another box for an alternative contact?
At the mo we are just using one of the random boxes at the bottom but it would be nice to have another box specifically for this. The second contact box does not work as the name comes up on the membership page and they are not a spouse or partner, they are another contact if we cant get hold of any members family. We put in their name, address and phone number, thanks.

Go to Member -> Add New Member or Member list -> Edit a member details
LOAN PAGE – toy loan receipts need to include a member's next roster duty
In any email template, you can add all of the "generic" shortcodes.
For the next roster add the shortcode [nextroster] into the email or loan receipt.
For more info and the list of shortcode, please go to our documentation https://mibase.co.nz/knowledge-base/use-shortcode-in-the-email/
Missing Pieces

The button on the right has been re-called to "New Part Status". 

When a Toy Library wants to add new missing/broken pieces the page had the dropdown list with all members, not easy to use.  Also, the list of "piece status" was very long and not all of them were relevant.
Now the forme has:
member search box instead of the drop-down
only the list of those pieces status:

Replaced
Missing
Broken
Found
Fixed
Report Page, list
We are improving the list of reports with the description and add the demo. You will be able to click the small image to see a demo of the report before using it.


Member Detail Page
We are improving the page by adding more titles and primary and secondary contacts altogether.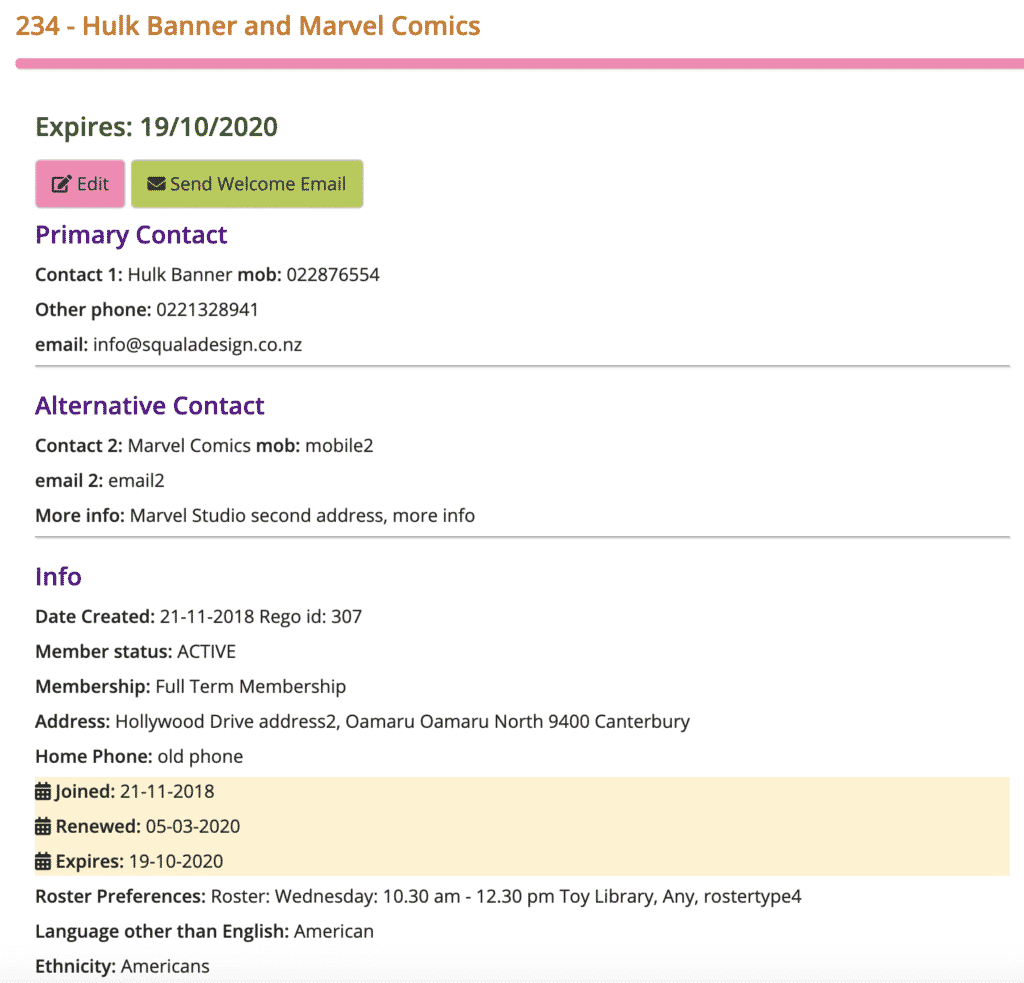 We have also reduced the roster list by displaying only the roster done and to do in the current year of membership.