MiBaseNZ updated to 2.16.7 - 16/08/2020
Covid function has been changed
The Covid function has been moved under Setup -> Temporary close 


 and now you are able to Activate or De-activate with just one click!

Ticket #489: Stocktake date not displayed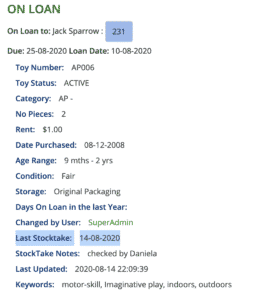 #458: Toys List in the library grouped by category with box note
Requested by Waimairi Toy Library
Hello, are we able to have a smaller printable stock take toy list, excluding loaned toys as its a struggle to print the report due to its size.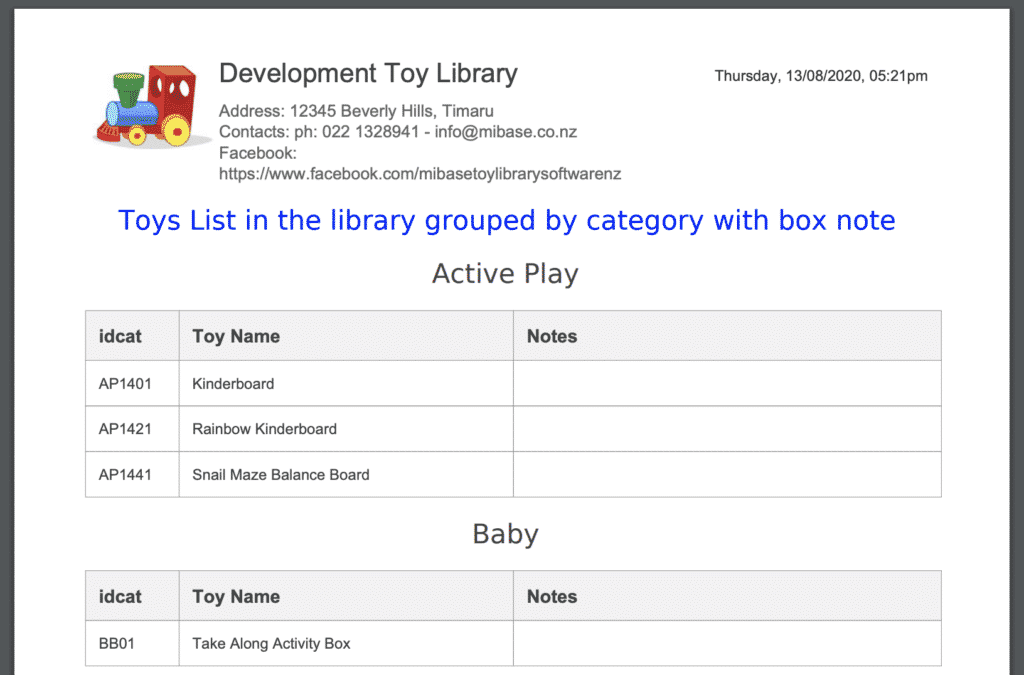 New email template with a setting
#422: renew_membership
Requested by North West Toy Library
We would like an email template (like welcome email) to be set up for when members renew their membership. To say something like: Dear [member], Thanks you very much for renewing your [type – eg: 6 month duty] membership with [toy library name]. Please make sure you carefully read through our updated terms and conditions – these might have changed slightly since you first joined. We are very appreciative of your ongoing support and use of our service. Kindest regards, [toy library name] team.
We would like it to sent out AUTOMATICALLY when members renew their membership (one less thing/button to click for people/volunteers to have to remember!)
Thanks!
We created the email template and we added the settings to send automatically the email.
FIRST STEP – Go to Setup -> Email Template and search for "renew_membership", look the template and change if you need it.
SECOND – Go to Setup -> Administration settings and search for "auto_renew_email", if you like to have the function that send the email automatically change that to YES otherwise you will see the email button "Send Renew Membership Email" after you renew the membership!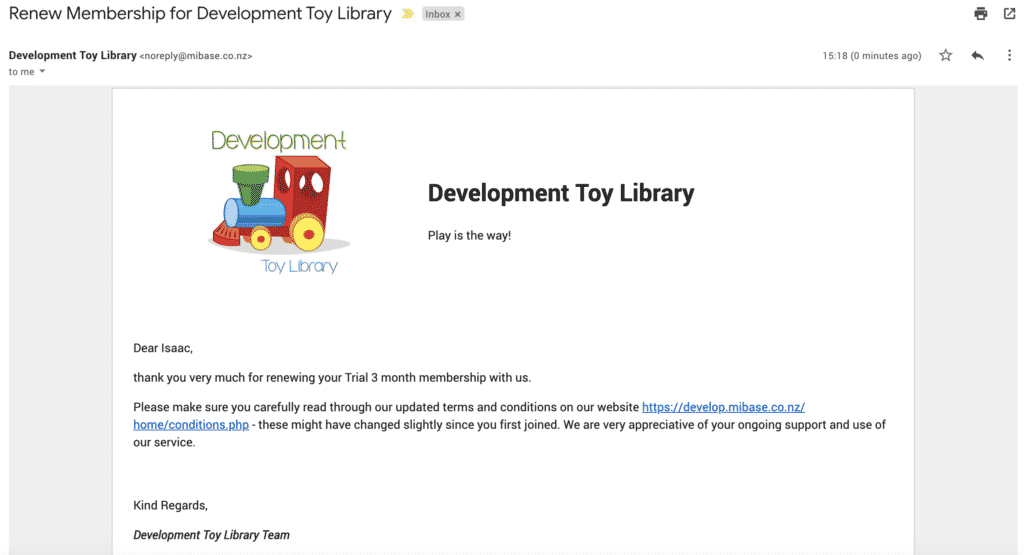 Days and Times
You can add all holidays or days when your Toy Library will be close. Remember to delete the old one and add the new one every year.
On the next update those holiday will be used into the New Reservation, Public and Member website messages and in the New Roster System.

New small addition in same pages
#456: Under 'Editing Member' page, Expired date not a year from renewing date
Requested by Papamoa Toy Library
Expired Members renewing on a later date than the date expiring, the system doesn't alter a years expiry date from day you renew. It only does this if you renew on date of expiry. We then need to go back in and change this ourselves to reflect the correct date of expiry. Please could you look into this for us. I mentioned it at the training workshop which you then looked at and agreed was happening. It's just something we have become use to fixing but it is a beggar. Thanks
Now you have a new setting called "expire_from_now".

The function now works in this way: 
if you choose Yes, when you renew a membership BEFORE the due date it will still add the number of months from the type of membership from the expire date – when you renew a membership AFTER the due date the new expire date will add the number of months from the type of membership from today.
If you choose No, the function will remain as is now, so the new expire date will add the number of months from the type of membership from the old expire date.
#450: New Function – creating a block for no more loans
Requested by Pegasus Toy Library
We have a Casual membership where members are only allowed to hire 3 times over the year. Are you able to create a block when these members have reached their third hire?
Membership Page
We added the field and column into the Membership page, called "visits".

Member Stat
Add the column TotVisits at the Member Stat.

Loan page
Add the message in the Loan Page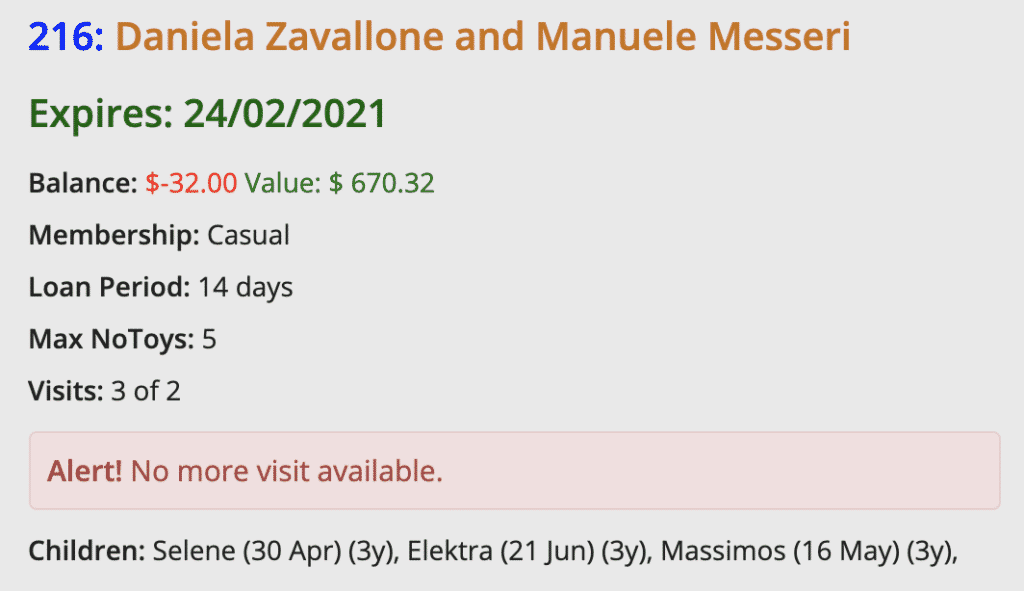 #457, #466: Children Name and Birthday
Requested by Papamoa Toy Library 
Hiya, any chance the children's names and dates of birth can be displayed on the loan page – as important as it is to address the adults by name it is as important to address the children by their names and to use the children's names when talking to the parents. At the moment I am adding the names into the admin notes box but would ideally like to use that only for what I need to remind/talk to members about. Thanks 🙂
and Taupo Toy Library
Are we able to have the option to add the children's names onto the loans screen please? It's important to us that we know the children's names when they are at the counter. I know it gives a wonderful impression and makes them feel important. Although I know a few of the children's names I certainly don't know all of them. I like to talk to the children when they are returning & hiring toys. If this was on our loans screen we could then use this easier than changing screens for a reminder. Not sure if it's something others would want or not. Thoughts?
Now you have the children birthday list in your Home Page

and the names, age, date of birth and birthday message in the loan page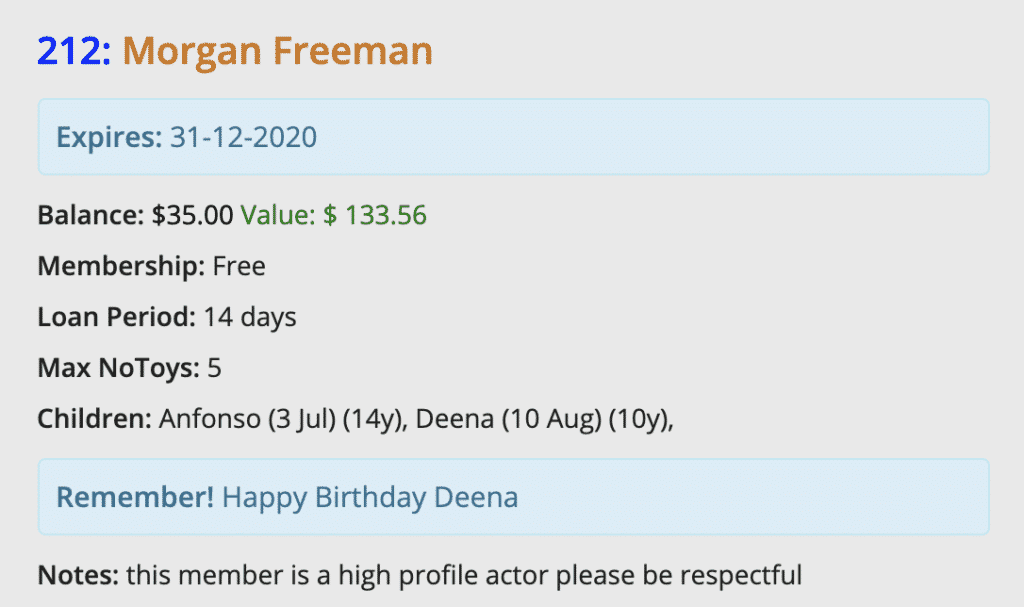 #464: Add admin notes box to loan page
Requested by Taupo Toy Library
Hi there, I'm finding that the admin notes box is the one I use most – I add any notes in it about things that I need to ask members about or remind them about when they come in next – it would be really handy to have that admin notes box available to add details into on the loan page as that is the main page used. If I have to go from the loan page to the member list, find the member and scroll right to the bottom of the page it is time consuming and I don't always have the time to do it in between one member to the next coming in so am having to write myself notes on a piece of paper and then go back and add the notes on mibase later – a lot of double handling. Having the member alert box and toy alert box there is good – just adding the admin notes would make it way more streamlined – any chance of this….please 🙂

#465: Link to roadmap
Requested by Taupo Toy Library
Hi there, any chance on the admin home page there could be a link to the roadmap – it's great having the links to the documentation, ticket system etc all there – if there could be a link added so we can get directly to the roadmap it means all info we need to keep up to date and see what's happening can be got to all from one place 🙂