MiBaseNZ updated to 2.16.9 - 06/09/2020
New Page in Admin - Reservation History
You can see all different reservation created in the past with the different status, loaned or deleted.
Go to Reserve

Click Reservation History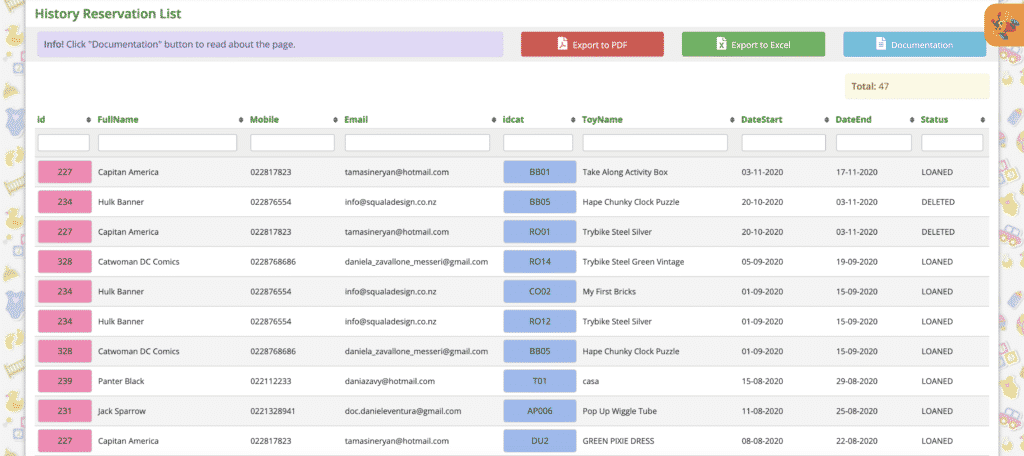 New Page in Member and Public websites
Ticket #507: Toy reservation request.
Requested from North West Toy Library
Hi Daniela,
I understand that members can see if a toy is reservable when they look at individual toys in the catalogue, but I was wondering if there could be just one place that they had to look to see the whole reservable list of toys – a list or a page or a drop down where they were all in one place – like the report that admin can generate, but for members to see (so maybe just the name of the toy and the picture, something simple like that) –
then they can go into the catalogue and go straight to that toy to reserve it.
I hope that makes a bit more sense?
Cheers,
Rosie
We created the page called "Reservable toys" in the both Member and Public website. To show the page go in your Public settings and change both settings "menu_toy_reservable" and "limit_reservable"


New detail in the toy detail page in Member and Public websites
Tags – Keywords
We added the list of tags or keywords in the toy page in both member and public websites.
It will improve the visibility in Google and soon it will be possible to click on one of it and go in the list of toys that has the same tag.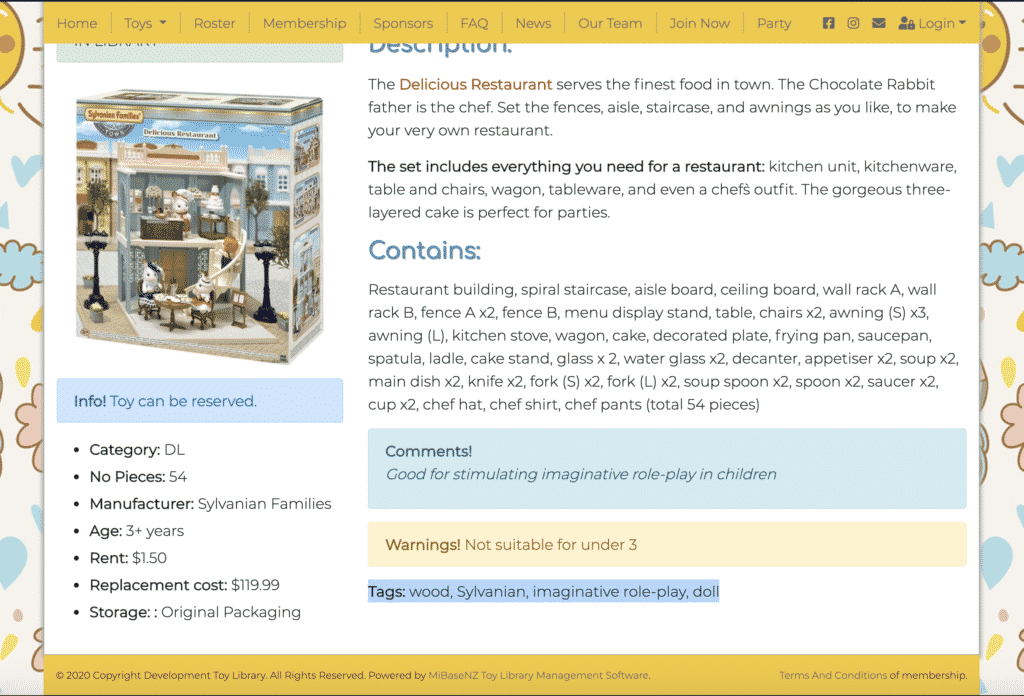 Ticket #481: Incomplete email address showing in the member list
Ticket #526: It wont allow me to add a new child to a members profile.
Ticket #528: Unable to enter child's birthdays
Ticket #531: Children's dates of birth
Ticket #535: Adding children's name and DOB to new member
Ticket #537: Add child not working
Ticket #538: Opening Hours on bag Label Squished
Delete a reservation
You are still able to delete a reservation but now the system will change the status to "Deleted" instead to delete from the database.
Member website
Toy menu: the menu has been changed like the menu in the public website with 4 sub-menus.

One-click button
One-click function page: we added a new button in the right part of the page called "not reservable all toys".


Documentation here: https://mibase.co.nz/knowledge-base/using-the-1-click-function