Activating the Temporary Closure Module
This module was originally called Covid-19 Module and was set up by MiBaseNZ to help toy libraries record the number of days they were closed during the Alert Levels of Covid-19. This module still serves that purpose but can also be used for whatever other reasons your toy library may need to close for extended periods of time, hence the renaming.
When your library opens again, this module will calculate the total number of days closed and extend your members' membership for the same amount of days.
This module will update daily (during the night) in the admin website until the library re-opens.
There are two simple steps to follow to ensure the module is activated correctly.
Step 1:
Go to Setup -> Temporary Close

Step 2:
Click the Activate button. A Success message will appear underneath.

Refresh your page for the Closing Date to update to the current date. The Opening Date will be blank and the Toy Library close for will have 0 days. The Activate button will no longer be green (see below).
If this page doesn't update, log out and then log back in again.

In the previous module, you were required to go to the admin settings and manually change the closing date.
By clicking Activate, the settings will now update automatically.
Go to Setup -> Administration.
Type in 'covid-19' in the Description field.
The setting closing_date will now have the current date.
The setting opening_date will be blank.

In the previous module, you were also required to manually turn off all automatic emails so they were not sent during the closedown period.
By clicking Activate, the setting will now update automatically.
Go to Setup -> Automatic Email
Type in 'covid' in the Type field.
You will see the automatic email new_expire_covid will now be active. The Email Admin refers to the email reports you are normally sent. This will automatically be set at No however if you would still like to receive them even though members will not, click Edit and change the setting to Yes.

Now the module is activated, the number of days your library is closed for will update daily.
You will see a list of all your active members with the new expiry date and the old expiry date. The NewExpire date updates daily adding one more day every day until your library opens again.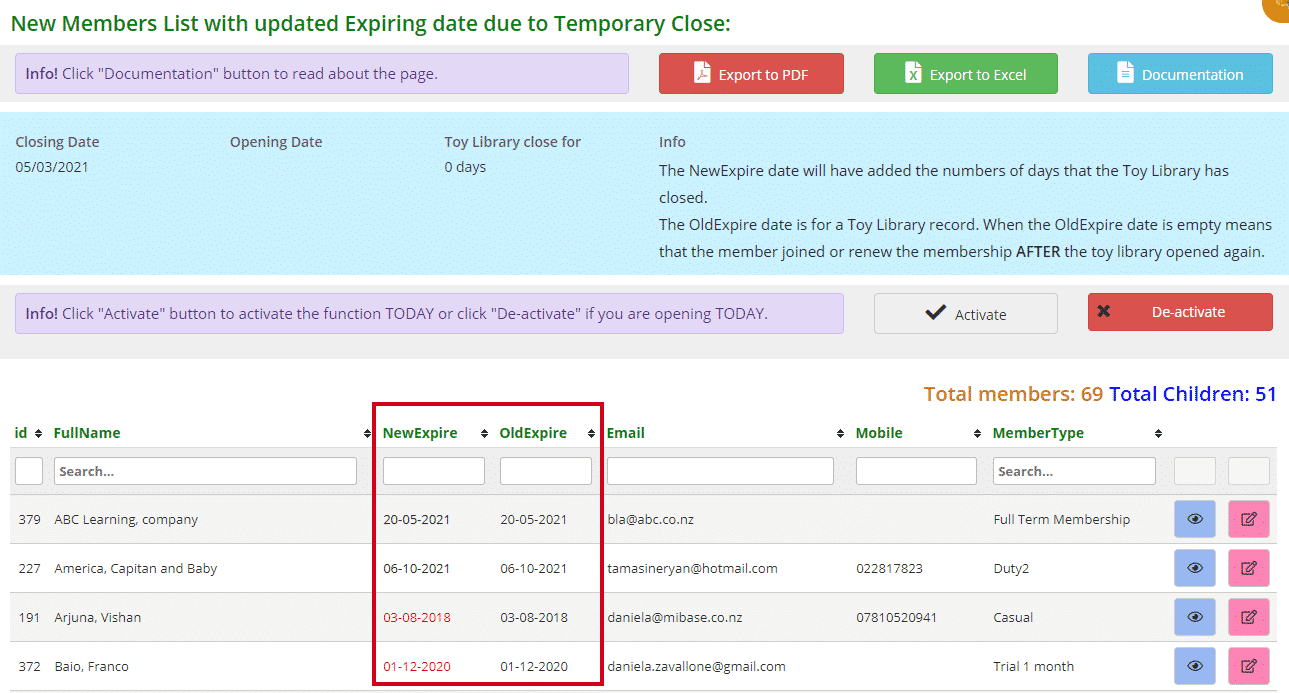 Also, every time you log into your admin website, a pop-up screen will automatically appear on the home page letting you know the Temporary Closure module is still active.

When your toy library is ready to open, this module will need to be de-activated.