De-activating the Temporary Closure Module
If you are reading this page, it means your toy library has decided on the day that you will be re-opening which means you will need to de-activate the Temporary Closure Module.
IMPORTANT: De-activation must happen on the FIRST day of re-opening, not any time before or after.
The reason for this is to allow MiBaseNZ to accurately record the total number of days the library was closed and add this to your members' membership.
There are three simple steps to follow to ensure the module is de-activated correctly.
Step 1:
Go to Setup -> Temporary Close

Step 2:
Click the De-activate button. A Success message will appear underneath.

Refresh your page for the Opening Date to update. The Toy Library close for will show the numbers of days your library was closed. The De-activate button will no longer be red (see below).
If this page doesn't update, log out and then log back in again.

In the previous module, you were required to go to the admin settings and manually change the opening date.
By clicking De-activate, the setting will now update automatically.
Also with the previous module, you were required to manually turn on the automatic emails so they would be sent out again once your library is open.
By clicking De-activate, the setting updates automatically.
The third step in de-activating this module however is to check the setting Email Admin is set to Yes otherwise you will not see the email reports.
Step 3:
Go to Setup -> Automatic Email
Type in 'covid' in the Type field.
You will see the automatic email new_expire_covid will no longer be active. The Email Admin should be set to Yes. If it is not, click Edit and change the setting to Yes.

Automatic emails run during the night, so this will not take effect until the next day.
Now the module has been de-activated, you will see for each member, their new membership expiry date. This date is the date that will be shown on the Members List page and the Member Detail Page (see below). The old expiry date under the Temporary close page is there for your toy library's record.
Members List page

Member Detail Page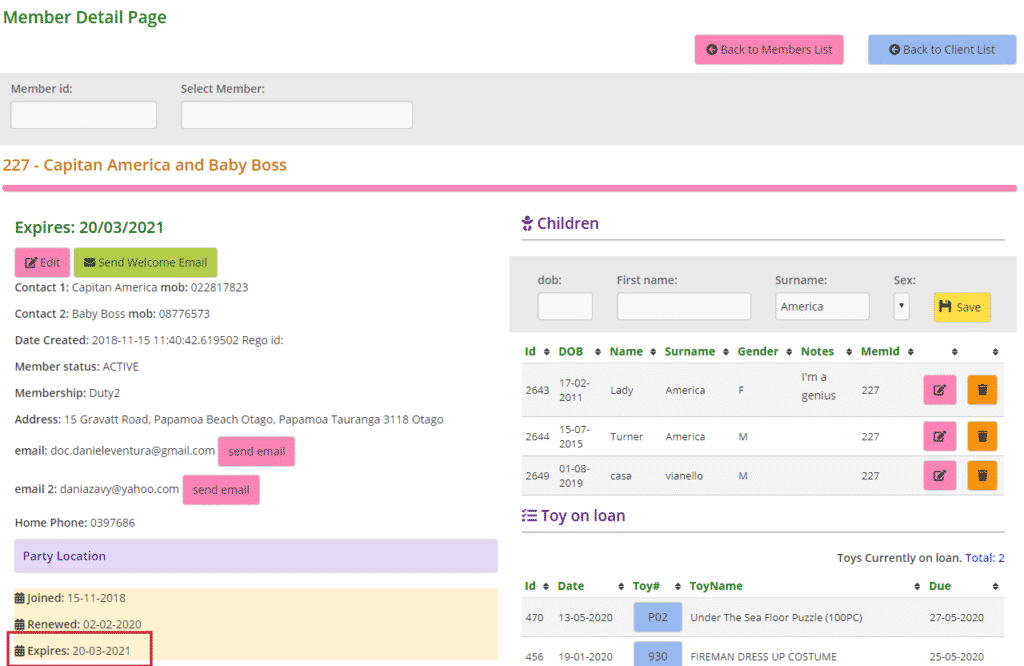 Depending on how long your toy library has been closed, toys that have been hired over this closed period will also be accruing overdue fines. To avoid your members being charged these fines, you will need to temporarily turn off the fine system. To do this, go to De-activating Overdue Fines