MiBaseNZ's Committee module has been created to help libraries manage their volunteer work in a fast and efficient way.
There are two parts to this module.
The yellow sections, which are free for everyone, include a page where toy libraries can add all their legal information and a page to list all committee members and their details including who has keys or bank access.
The orange sections are the paid premium module and these include a page to add timesheets for your committee members and a page to add any events and meetings, including the minutes, that is held by the library.
If your library has purchased the premium module, the Home page will display these activities however if no premium module has been purchased the Home page will have no need to display anything.
If you are interested in the Committee premium module, feel free to contact us or read more on the Premium Module Page.
To start using the Committee module, go to Setup -> Committee

Free Module Home Page
This home page will be blank, except for the module information in the blue box.

Premium Module Home Page
This Home page will feature the current month's activities and the Meetings and Events calendar for the current month and the two next months.
At the beginning of each month, the month heading will update and the information recorded here will be removed ready for the new month's recorded information. This information, although removed from the Home page, will still be listed on their relevant pages.
If you have added any events or meetings you will see different colours for each different type. Clicking the date will display the event or meeting's information.
It is also possible to click the information to expand and see the complete event's details with also a link to any documents attached.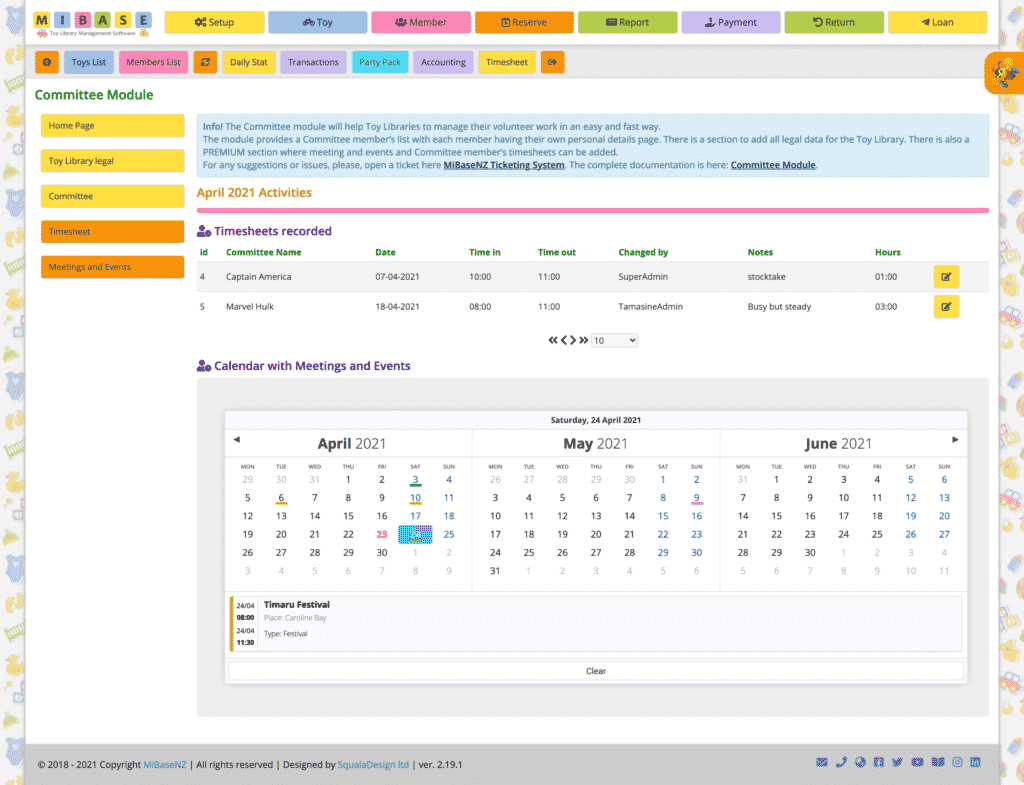 On the left of the Home page, you can see five buttons. As explained above, the yellow buttons are part of the free module, the orange is the premium paid module.
Home Page: clicking this will bring you back to the home page as shown above.
Toy Library Legal: this page will list the legal information for your library including registration numbers and links to relevant websites
Committee: this page is where you add your committee members, as well as edit or resign them and see who has bank access, a key, access to the admin website, and more
Timesheet: this page is where you add new timesheets for each committee member as well as see timesheets for all the committee
Meeting and Events: This page is where you add all events, meetings, fundraisers, etc that are held for your library. Any documents related to the event, such as meeting minutes, can also be added
The five buttons will appear on each of the pages so the admin will not need to visit the home page to access them.
Follow the links for more information on each page.