No toy library and how it operates is the same. For this reason, MiBaseNZ has given toy libraries the ability to create and save their own email template.
This email template can only be used and sent from Bulk Emails. It cannot be set up and sent as an Automatic Email.
The first important step is to create your email template.
Go to Setup -> Email Template and click the Add New button at the top right of the page.

The following page will then appear.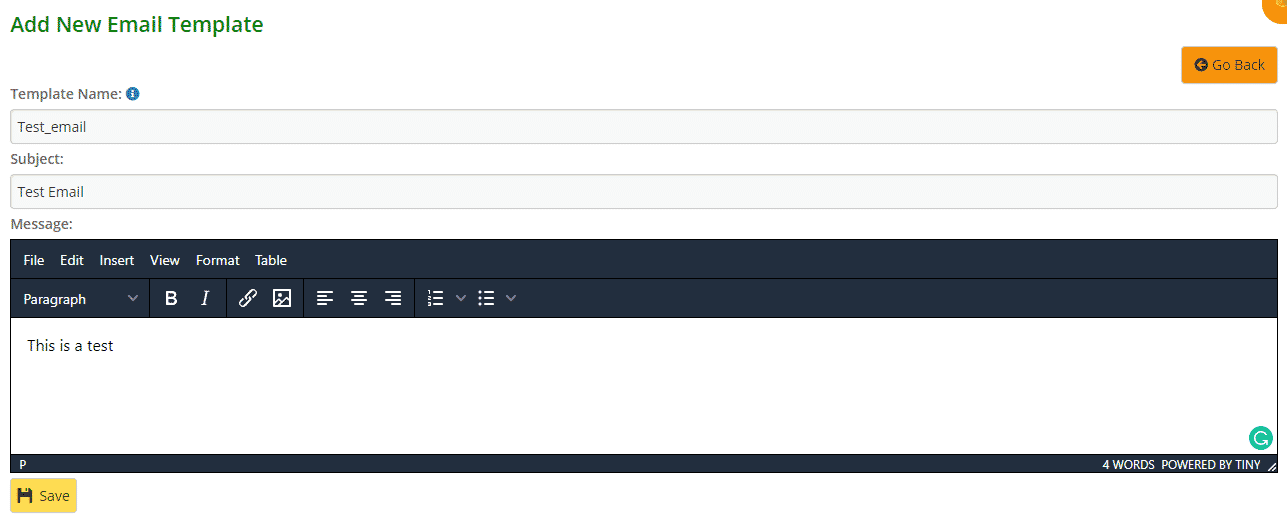 Then add your information.
Template Name: 

must be simple and short with no spacing

.
If you want to add two or three words to the name, you must use an underscore _ instead of a space.
For example, renew_mem_family
Subject: heading for the email
Message: add whatever content you would like the email to be about
Click Save.
A Success message will appear underneath the Save button.

Clicking OK will take you back to the Email Templates page where your email template will appear in the list.
At this point, Bulk Email templates can not be deleted. This option will be available by October 2022. If you would like to delete a template you have created and no longer would like, please Open a ticket.

It will also appear in the Email Template dropdown menu under Bulk Emails.
Go to Members -> Bulk Emails