There are areas within MiBaseNZ that require text such as the toy description or in emails. These areas will have the text editor to help bring attention to and improve the description and the general layout.
You have to remember, that all Toy Descriptions are going on your Public Website and Member Website if using. If the toy is described well and is well presented with a clear photo, Google will likely show the page in the first page of searching.
To improve the Toy Description, the text editor can provide some formatting such as paragraph, bold, italic, fonts colour, lists, and tables.
A well presented Toy Description needs to have at least 2 paragraphs, like the example below for the toy Sylvanian Families Town- Delicious Restaurant.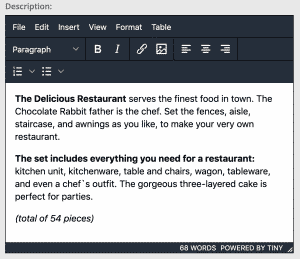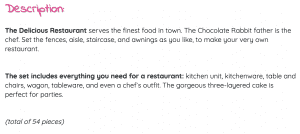 Creating a paragraph or just one line down
With the text editor, you are able to create a new paragraph by just pressing ENTER/RETURN on your keyboard.
However, if just want the line down without a new paragraph and space between, press SHIFT + ENTER/RETURN.