MiBaseNZ's Transactions page provides a detailed list of all monetary transactions your toy library has made. It is easily located in the second menu bar allowing you quick access to the list.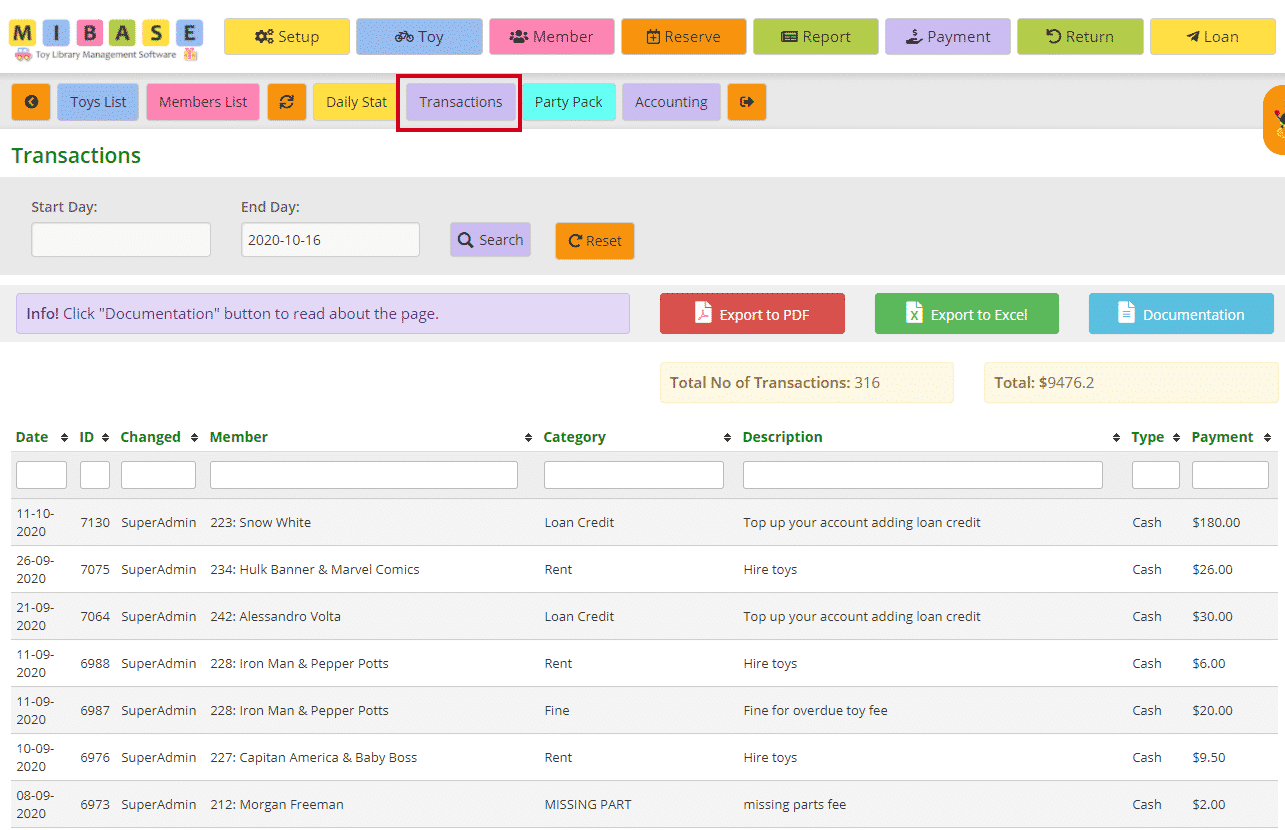 The most recent transactions will be listed first.
If you wish to view transactions on a certain day or in a certain period, select the Start Day and End Day from the dropdown calendars, and click the purple Search button.
Click the orange Reset button to refresh the page to the current library sessions or to make another selection.
Just above the table and to the right you will see the Total Number (No) of Transactions that have been made and the Total money value of these transactions.
You can also sort the list according to the table headers by clicking the arrows alongside it.
Date: the day the transaction was made
ID: the number generated for each transaction; the higher the number the more recent the transaction
Changed: the login name of the user who entered the transaction
Member: the name of the member incurring the transaction
Category: when a transaction is entered in the Payments page, a category would have been selected
Note: each toy library will have their own specific categories set up for their transactions, no one will be the same. 
To set up a list of categories follow this link Creating New Payment Options to learn how
Description: of the transaction. This is also usually set up when creating a payment option
Type: the payment method such as credit, internet (or online), cash, or Visa. Again this is also usually set up when creating a payment option
Payment: the value of the transaction
You can download this list to PDF and/or Excel by clicking the Export to PDF or Export to Excel buttons. This will export the full list. If you want to download a filtered list, either use the date range option mentioned above OR export to excel and sort or filter through there.

You can also decide how many rows you wish to see on the screen by using the pagination at the bottom of the list.