Second Menu – Transactions
The Transactions page allows the user to quickly view a list of money transactions during a given date range and customised and sorted according to filters applied. The Transactions page is located at the MiBaseNZ second menu, the bar-shaped menu directly below the MiBaseNZ logo: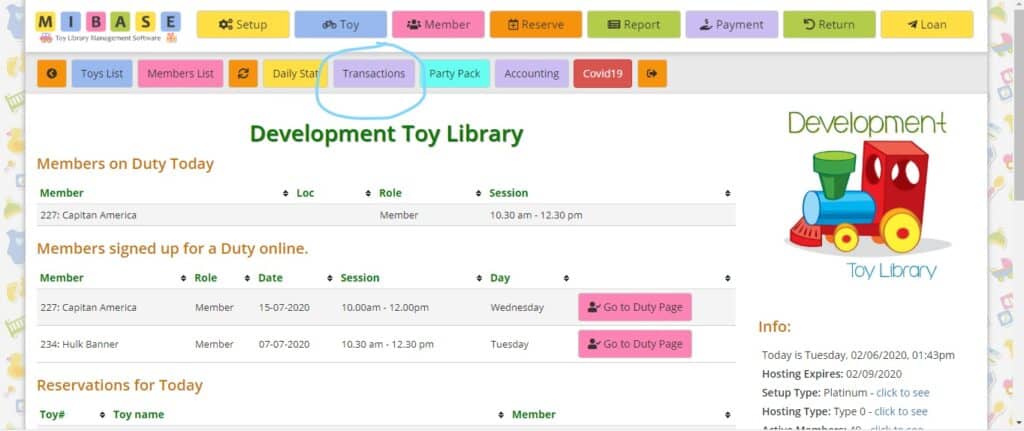 Now your screen will look like this: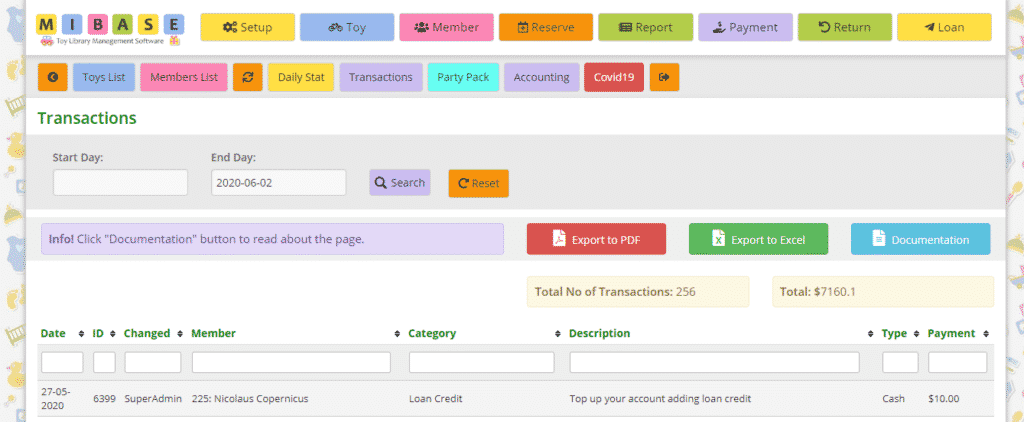 The total number of transactions and the total money value of these transactions are shown on the right side of the screen.
If you wish to view transactions in a given period, please select the "Start Day" and the "End Day", then click on the purple "search" menu, or hit the orange "refresh" to make another selection: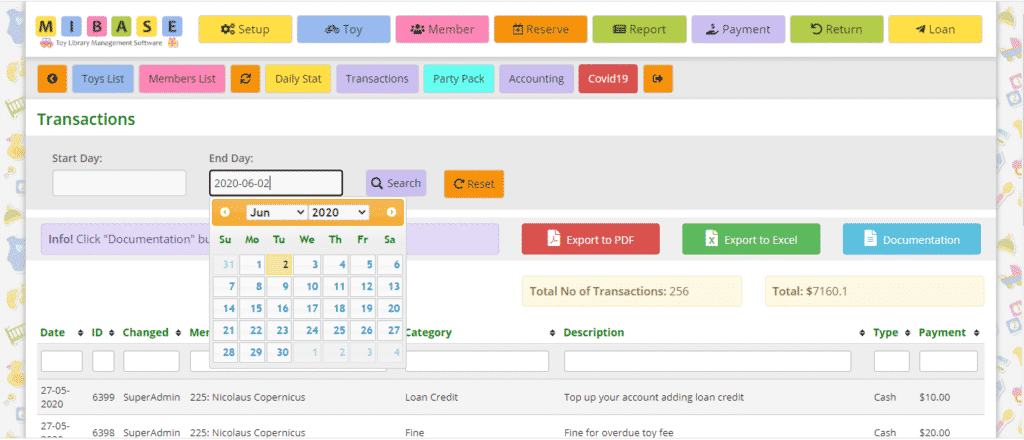 You can also sort the transactions list according to each of the following fields by clicking on the up/down arrows beside each field: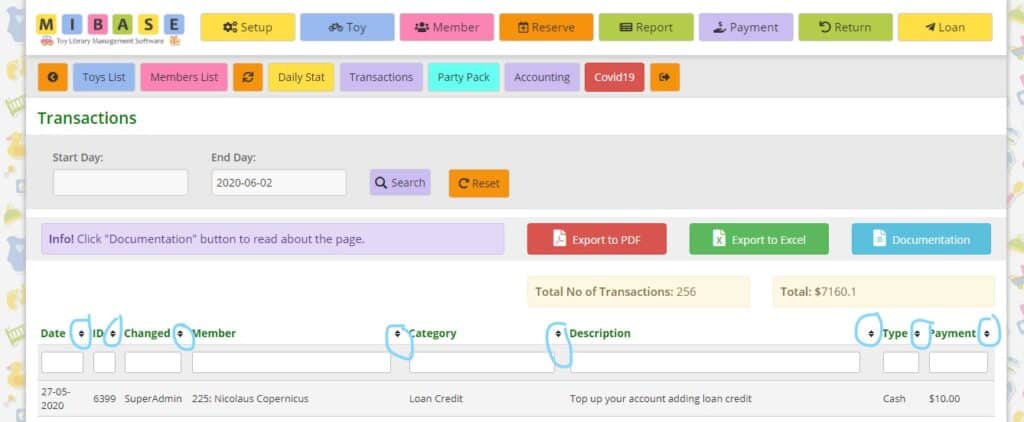 Date: You can choose to see the oldest or latest transactions at the top
ID: This is the id number generated for each transaction; the higher the number the more recent the transactions; you can choose to have the list with the lowest ID values at the top or the bottom of the list.
Changed: You can arrange to have the transactions that have been changed by someone to be displayed on top of the list or vice versa. The login name of the user making the change is also shown, such as admin. You can arrange the transaction list according to the alphabetical order of the user name responsible for making changes to the transactions.
Member: The name of the member incurring the transactions can be arranged in alphabetical order.
Category: When a transaction is entered onto MiBaseNZ a category was selected; different toy libraries might have different categories set up for transactions but main ones would include charges such as Membership Fees, Missed Roster Duty Fine, Missing Bag Fine, Missing Part Fine, Party Pack, Bond for Party Pack and Rent (the cost of hiring a toy). Common categories for refunds might include Missing Part Refund, Bond Refund, Membership Fee Refund, Missing Part Fine Refund, Missed Roster Duty Fine Refund, Missing Bag Fine Refund, or a reverse payment. You can arrange the list according to the alphabetical order of the different categories.
Description: Some transactions might include a description by the user who entered the transaction – for example, specific details about missing parts and the toy name and toy id number, or in the case of the Missed Roster Duty Fine – the date on which the rostered duty was missed. You can arrange the transaction list according to the alphabetical order of the first word in the description.
Type: The "type" of payment refers to the payment method such as Credit, Internet (or Online), Cash, Cheque, Paypal and VISA. You can arrange the transactions according to the alphabetical order of the transaction "type".
Payment: This is the value of individual transactions. You can arrange the list from the lowest transaction value to the highest or vice versa.