Changing the toy status quickly – Fast Toy Status
On MiBaseNZ the "Fast Status" functionality helps you change the status of a toy in a quick simple step, as well as viewing a few vital details of a toy.
To get to the "Fast Toy Status" page, go to Toy -> Fast Toy Status.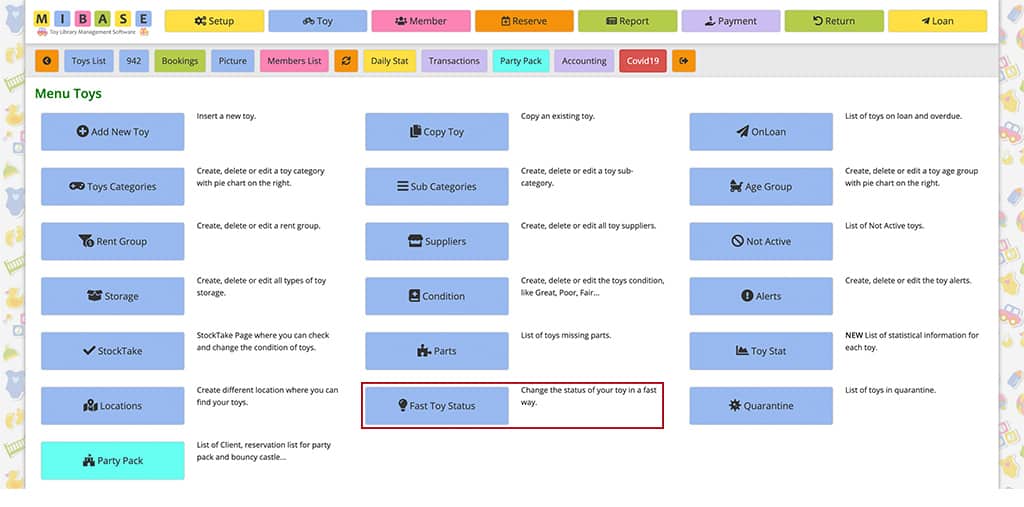 The page has ALL toys listed, active and not.
The page has pagination, select how many rows you want to see on the screen if you do not wish to scroll through many pages.

You can sort the list according to your preference for each category by clicking on the up/down arrow by each category: idcat (the toy number), Cat (a two-letter code for the toy category), Toy Name, Toy Status, Date Check, Deactivate Reason and Deactivate Date.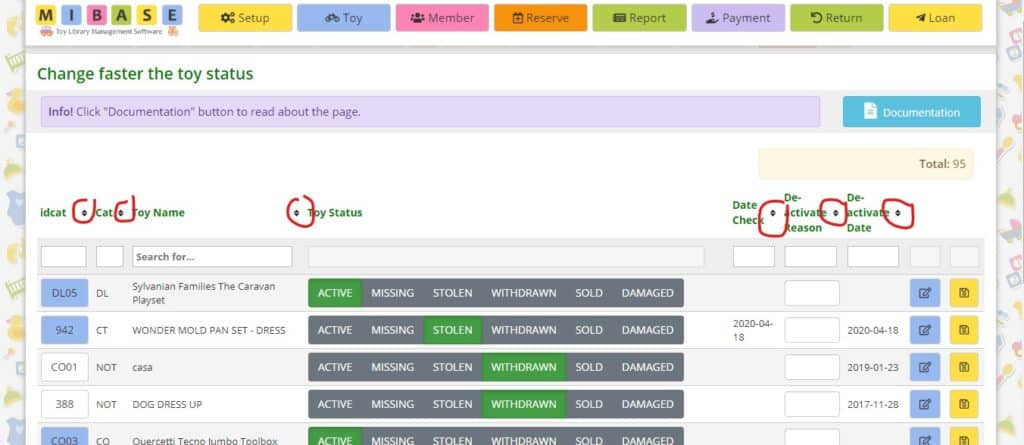 You can view a picture of the toy by pointing the mouse to the blue toy "idcat".
To look for a particular toy in order to change the status, start typing the name of the toy or a keyword under "Toy Name". You can also scroll through the list if you are unsure of the name of a keyword.
Under "Toy Status" the current status of a toy is shaded in green.  To quickly change the status of a toy, click on the desired status and click on the yellow "save" button to update the record.
If the toy has been deactivated and you wish to add a deactivation reason, type in the field and click the "yellow " save button.

To edit other information on a toy, click on the blue "edit" button. See the "Editing a Toy" article for additional information.
If you click on the toy's idcat you will be taken to the Toy Detail page.  There is an article titled "Toy Detail" to help you navigate round that function on the MibaseNZ system.