MiBaseNZ's Payments page is where all forms of transactions are made. When you have selected a member, you will be able to see their entire transactional history starting from their latest payment.
Before you start using the Payments page it is important you create specific Payment Options for each of your membership types as well as for other forms of payments, for example, toy hire payments, missed duty fine, birthday bonus. This will not only make using the Payments page easier but it will also speed up the process.  To find out how to Create Payment Options, follow the link.
To access the Payments page, click on the purple Payment button in the top menu.

You will need to then select the member. There are two ways to do this.

Member id: type in the Member id number if you know it and press Enter on your keyboard.
Search Member: search by name and select from the dropdown menu when it appears.
As you can see below, not only will you see all the transactions for this member but you will now be able to make a payment, and edit or delete them if necessary, and you will have the option to email or print a receipt for the member.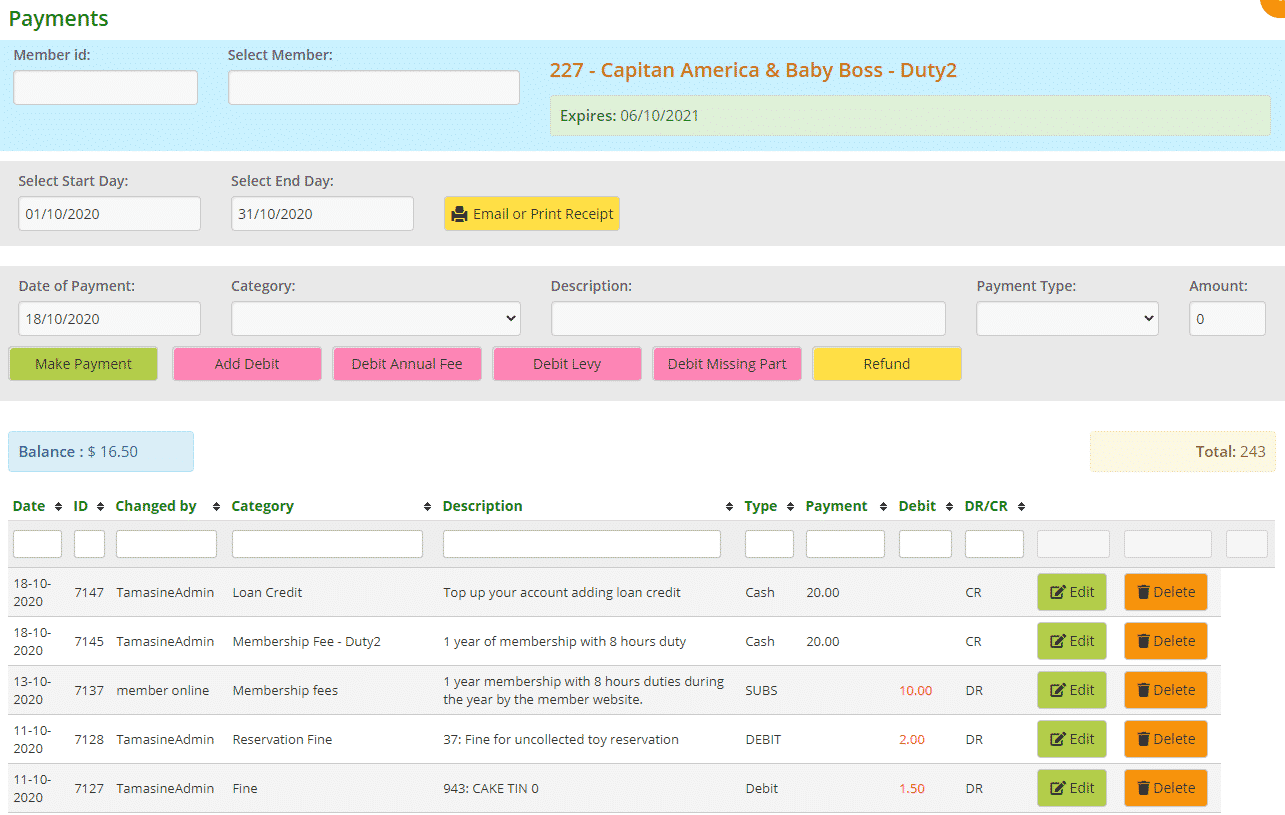 In the first grey row, you will see Select Start/End Day and the yellow Email or Print receipt button. To email or print a receipt for your member, a date range is required. Once selected, clicking the button will take you to the preview page. To learn more about being able to Email or Print a Receipt, please follow this link.
In the second grey row, this is where the payments are made for the member. To learn about these different transactions, please follow this link, How to make a payment. In the table underneath, you will see the green Edit button and the orange Delete button. Following this link will also explain these further.
Underneath these grey rows, you will see to the left the account Balance. If it is red, the member is owing.
To the right is the Total number of transactions the member has made for the entire duration of their membership with the library whether it has been one year or several (their "life" membership).
At the bottom of the table, you will see the word Total. The two figures alongside it are the total credits/payments and the total debits for this account for the entire duration of their "life" membership.